Free Trial
At Sensory Calm, we understand that weighted therapies are not for everyone and that it can sometimes be a challenge selecting the right Somna Blanket™ Chain weighted blanket or comforter. We like to make it possible for you to be able to trial it first, so you can see first hand how effective it can be. Our trial program will help you make a decision on whether or not therapy blankets are for you. The evenly distributed weight with high quality fabrics and materials mean the blankets last a lifetime.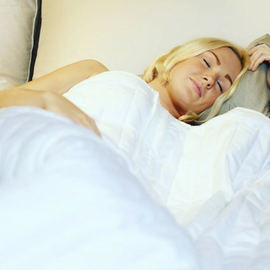 For Clinicians and Service Providers please contact us for trial information as a security deposit may not be required.
In order to help make the selection of the right style, size and weight from out range of products, Sensory Calm provide a Free 21 Day Trial*. After discussing your needs we will recommend the most appropriate product. A refundable deposit will processed and then we will then ship that product to you, for free, so that you can then trial and evaluate it in your own home.
Within the 21 day trial period, if you find that it is not suitable, or, for whatever reason you decide not to keep it, contact our consultant at info@sensorycalm.com.au. We can then either discuss your concerns and recommend a different product based on your feedback, or, you can return the product (in good condition) we will refund your deposit.
If, over 21 days, you are satisfied with the product, then we will invoice you for the remainder of its price and we can swap your demo product out for a new one.
No risk, no fuss.
To take advantage of our no obligation Free 21 Day Trial, simply contact our consultant at info@sensorycalm.com.au.
* Terms and Conditions:
A fully refundable security deposit of $250 is required for private clients, this will be refunded upon return of the product within 21 days (plus extra days to allow for shipping). The product must be returned undamaged. If the blanket is soiled the user may be charged a small cleaning fee.

Drivers Licence and address details are required for security reasons and will be kept secure and not be used for any other purpose.

After the free trial period and non return, an invoice will be raised for payment of the remainder.

The shipping to you is on us and if you could kindly return it to us as soon as you have tested it out. Our address is PO Box 4183, Balgowlah Heights NSW 2093.
This category is empty! Please try another category or use our search function to find what you are looking for. If you require further assistance please contact us.